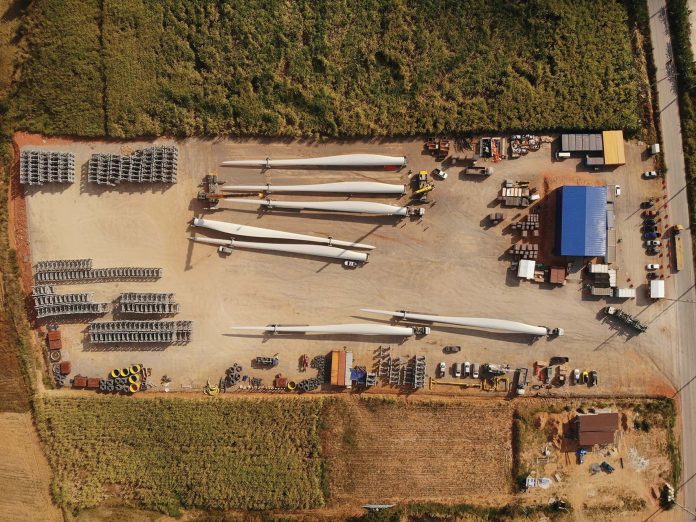 THE NOTION THAT ALL BUSINESSES SHOULD STRIVE TO BE A "ONE-STOP SHOP" HAS ENVELOPED THE CONSCIOUSNESS OF CONSUMERS AROUND THE GLOBE. AND WHY NOT? GOING TO A BIG BOX STORE OR ONLINE SHOP TO GET ALL THE ITEMS YOU NEED IN ONE GO IS, OF COURSE, VERY CONVENIENT. HOWEVER, IN THE REALM OF LOGISTICS, THE PUSH FOR MORE FORWARDERS AND LOGISTICS PROVIDERS TO BE A DO-IT-ALL OPERATION IS STEADILY LEADING TO A DECLINE IN TRUE SPECIALISTS WITHIN THE MARKETPLACE.
Freightplus is breaking free of these conceived notions with a business model focused around niche markets. Their years of experience moving heavy equipment is what gives them such strength; doing what few others are capable of accomplishing.
While the company was established nearly two decades ago, their official venture into the Southeast Asian market is still unfolding. They have been doing business in the area for years now, but the time was finally right to plant their flag and establish an official office and presence within Thailand. Mr. Michael Andrews, Managing Director of Freightplus Thailand, spoke with us about how he helped to establish Freightplus' new office in the country, how the brand as a whole develops into niche markets, and how they deliver some of the biggest equipment to destinations around the world.
A Framework for Success
Nearly twenty years ago, a team of like-minded, customer-focused professionals that were extremely adept at moving heavy machinery came together to launch the Freightplus brand officially. The shipping of large machinery is no small matter, and this is at the core of Freightplus' specializations.
The company began in Australia, but they have since spread their wings into other markets such as Thailand, Japan, USA, Canada and Chile. While the company may not be as large as some of their multinational competitors, they more than make up for this with big customer service and the raw experience on staff, making them a global market leader for their niche segment of shipping heavy industrial equipment.
This is also true of the company's latest venture in Thailand with Mr. Andrews at the helm. His experience working with Freightplus before the company officially opened an office in Thailand gave him the belief that they could build a viable business together in the country.
"I came over to Thailand over 15 years ago with a company where I was in charge of running all the logistics surrounding the importing of commodity chemicals," said Mr. Andrews. "After a few years, I moved over to work for a local project forwarder. Freightplus was a customer of mine for over five years, and I got to know the CEO and Founder very well. They normally had upwards of 80 shipments of second-hand mining equipment moving at any given time all over the world. Thailand was a very good location for them to stage equipment before it was shipped onward."
He continued, "I eventually left my previous job with the intention of starting my own business, and I saw an opportunity at hand. I observed that on previous other projects here, cargo and equipment were getting to the yard and even though this equipment should have been QC'd and ready to go to the site, there were still things that were not right. We would then have to find someone to ship it back out of the free zone. That's what allowed me to understand the process of bringing things in and shipping them back out again of free zones and this is where my initial idea came from."
Finding Your Niche
This was the lightbulb moment that led Mr. Andrews to approach Freightplus about developing a new business venture together in Thailand. The business would provide Freightplus' customers in the region a central hub to cost-effectively store and add value to equipment in transit while providing revenue and jobs in Thailand. Having already worked closely together for some time, mutual trust was already well-established, so it was a relatively swift and simple process to set up the new company. And so, the company Freightplus Thailand was formed in October 2017, owned 50% by Freightplus internationally and 50% by local management.
The company has enjoyed steady managed growth since their official launch and now has two offices in Laem Chabang with multiple yards and warehouses. Although the company's focus revolves around international forwarding and transshipment, much of their business is still done within Thailand; providing a range of specialist services to many local SME's, under the guiding hands of Mr. Andrews and his business partner Capt. Soraphong Pornngam.
Mr. Andrews went onto explain that one of the most important parts of their business continues to be their free trade zone. "I've lived and breathed free zones in Thailand for eight years now, so I know them like the back of my hand. Our free zone has been the bedrock upon which we've built up our business here. It allows us to be flexible and accommodating for customers."
"The primary purpose for establishing our free trade zone facilities was to provide a facility for economically storing and adding value to heavy equipment in-transit. Services such as specialized biosecurity cleaning have to be addressed before used equipment arrives at destinations like USA, Australia and New Zealand. The heavy equipment might be originating from somewhere that's very expensive to clean machinery, doesn't have access to the required equipment, perhaps even doesn't water, or maybe is just too dangerous. Freightplus provides the option to transship at Laem Chabang, clean to the required standard, and then forward to the final destination. The company provides a number of value-add services such as mechanical repairs, spray-painting and reassembly, and our range of support services is growing. There are already hundreds of general freight forwarders in Thailand, moving anything for anybody. That's not our business. We've found our niche and are thriving here."
Punching Above Your Weight
As one thing often leads to another, so too have many of the company's relationships that have blossomed from simply offering a provision of support services through their free zone; these relationships have developed into much more. One such relationship culminated in Freightplus Thailand's largest project to date, the recently completed transportation of 35 wind turbine towers for General Electric's (GE) Theparak Project.
Mr. Andrews said, "The free zone was the key to us getting this contract with GE. We imported all of their electronic components to our free zone, nearly 350 containers in total. There was a number of quite specific facility and service requirements, integral to delivering every component to the site exactly as it was required, and we had the right team and free zone facilities appropriate to accommodate those requirements. We're just a small piece of a big puzzle and having that free zone has helped us."
This was not an ordinary project either, as the blades of a single wind turbine can be nearly 74 meters long. With cargo that big and unwieldy, safety is of paramount importance. Moving this massive equipment takes a dedicated and professional team of project logistics specialists. As Mr. Andrews said, "We were punching above our weight and getting the opportunity to do big projects like this is amazing. Our performance on this project has proven our capabilities in this weight class, and I'm very proud of our team."
Speaking about the wind turbine project, Mr. Mario Plaschke, Senior Project Manager General Electric, said, "Mike and the Freightplus team stepped up when we were at a critical turning point and desperately needed a strong partner to help compensate for construction delays and to overcome tough schedule challenges."
"Freightplus' broad experience, their excellent logistics network and their outstanding reputation were key to helping us quickly line up highly qualified resources, to recover from delays and to meet our customer requirements with regards to the delivery and construction completion of Thailand's biggest Renewables Onshore Wind project Thepharak. Leaving your safe comfort zone, taking more risks and going above and beyond the call of duty is exactly what it takes to be successful in this business. Many thanks to the entire team!"
A Promising Future
As Freightplus Thailand has continued to find success, a recent recognition of the company's capabilities was being invited to join the Project Logistics Alliance (PLA). With membership strictly limited to two members per country, the value this alliance brings to Freightplus Thailand has been tremendous. With a network of rigidly assessed, pure project forwarders members, this gives Freightplus Thailand both leads and like-minded operational partners to work with around the globe, adding to the already extensive Freightplus global network. Beyond that, it is an affirmation of their skills as a leading specialized project forwarder.
Finding success in niche markets doesn't necessarily come easy, but with their experience and diligence, Freightplus is proving the viability of their business strategy.
When asked about what's on the horizon for the company, Mr. Andrews said, "The free zone operations are continuing to do well, and we have the satisfied customers to prove that. We are starting to do more machine instillations as well for the likes of automotive industries. We deliver the parts and machinery for the line and install it, so that's an area that's looking promising for us. We love what we do and have a real passion for shipping difficult cargo and the challenges that surround these operations. It's not about trying to do what so many other forwarders in Thailand are going after; we want to take the path less traveled as this is where our expertise can truly shine."