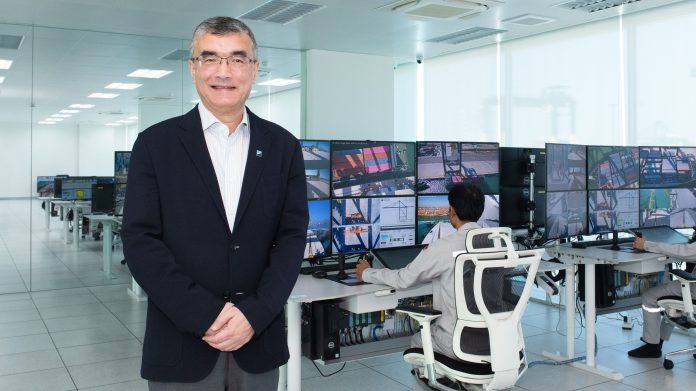 One of the most important factors amidst the ever changing and technology driven ports, shipping and logistics industries, is the impact these industries have on the environment. Hutchison Ports Thailand recognises that creating a sustainable environment is equally as important as becoming a leading port operator utilizing advanced technology.
The Push
The world's continuing need to grow and develop economically has, without a doubt, had an adverse impact on our environment. The current global focus on finding ways to minimise our combined carbon footprint in order to develop in a sustainable way, reflects just how critical this challenge has become for all of us. "It has also become a very important issue for Hutchison Ports, not just in Thailand, but in all of our 52 ports globally," said Mr. Stephen Ashworth, Managing Director of Thailand & South East Asia for Hutchison Ports, regarding the origin and vision of Hutchison Ports' endeavour of becoming a global leader in sustainable terminal operations.
"This issue is particularly important for the younger generations. When our managers are interviewing young people to join the company, a lot of them are asking about our environmental policy. It is clear that we must now do something for the next generation as we owe it to ourselves and future generations to leave this world in a better condition than the one we inherited," he continued.
Another drive for Hutchison Ports' green port mission is the fact that many ocean carriers are embracing IMO 2020, which is the International Maritime Organization's regulation on reducing sulphur emissions to 0.5 percent from today's average of 3.5 percent starting in January 2020.
"Our customers, the shipping lines themselves, are going to feel the impact of the IMO 2020 requirements and this is beginning to have an impact on us as port operators as well. For example, an increasing number of shipping lines are asking us to provide shoreside electrical power to their vessels while on berth so that the engines can be shut down in order to reduce fuel consumption," said Mr. Ashworth.
For the first time ever, Hutchison Ports has established a group environmental committee with Mr. Ashworth as a co-chairperson alongside Mr. Clemence Cheng, Managing Director for Europe. The committee found that certain terminals in Europe, for instance, have already commenced their journey towards becoming a green port while some terminals in regions, such as South East Asia, need to do a bit of catching up.
"There are several factors to consider. The idea of this committee is to start to bring some sort of alignment within our Group in terms of overall thinking about sustainable development. I don't think the committee is expecting a small feeder terminal in, say the Middle East or South East Asia to immediately embark on a programme to electrify all of its ship-to-shore and yard cranes or to introduce automated electric trucks. It's more about working within a realistic timeline, but in parallel identifying the "low hanging fruit" environmental initiatives which we can check off the list first. This might be as simple as developing policies to reduce plastic waste, switching off lights when out of the office or reducing paper usage," Mr. Ashworth explained.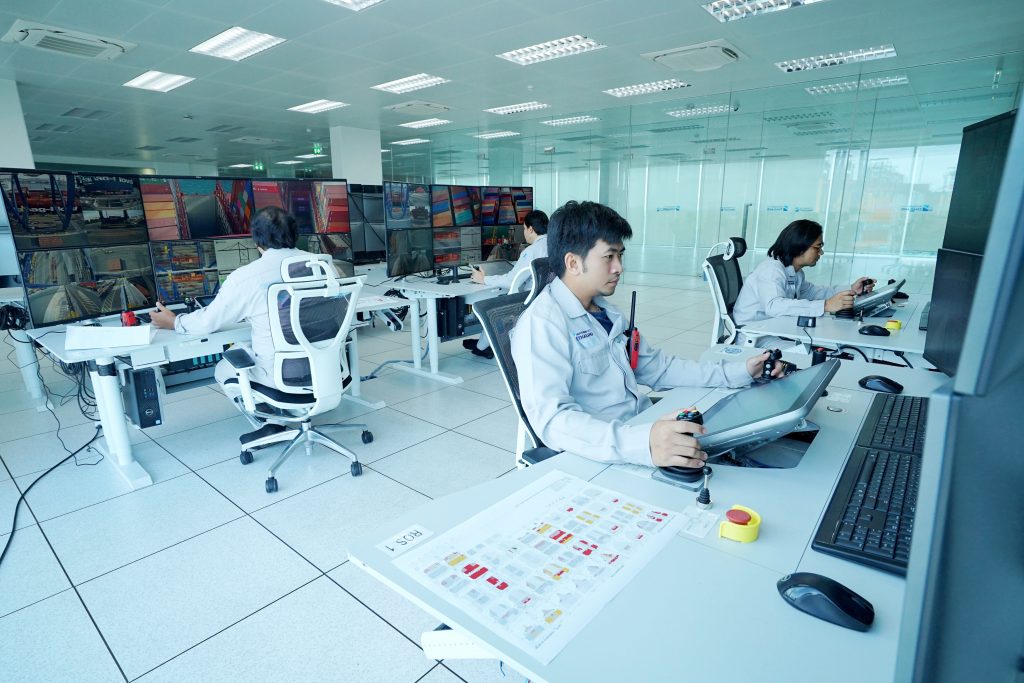 The Port
As part of Hutchison Ports' global initiative, Hutchison Ports Thailand is moving full throttle as a clean energy container terminal with their currently under-construction Terminal D at the nation's premier port at Laem Chabang. "Terminal D is a very good example of where we are effectively moving towards achieving a green port status. All of our remote-controlled ship-to-shore and rubber tyred yard cranes are electrically operated, which is a solution for emissions at the terminal. If you then take into consideration the newly installed conductor bars for the yard cranes, you also have a partial solution for noise pollution," said Mr. Ashworth.
Mr. Ashworth also revealed Terminal D's next step to improving its status as a green port will come with the digitalisation of its land side processes. "We are going to automate the gate in such a way that the external truck driver doesn't have to carry any paper. The driver will have a card which can be inserted or swiped in a machine at the gate and the system will immediately recognise them. RFID technology will identify the truck as the driver takes the truck to the appropriate stack in the yard to discharge or load its container. This is like a car park where you go in and come out quickly and easily with your ticket or card."
He added, "Our terminals in Tanjung Priok Port, Jakarta have already successfully implemented an automated gate system, and as a result, they've also noticed a significant reduction in terms of traffic congestion pre-gate due to faster gate processing times. For us, it's our goal to make this happen in the next two years at Laem Chabang."
Terminal D will also become Hutchison Ports' flagship terminal in South East Asia, "For Terminal D itself, one thing that I'm quite proud of is that we are one of the first remote-controlled container terminals for ship-to-shore and rubber tyred yard cranes. We are quite out there. When Terminal D is finished, it will essentially be viewed by users as being a green port," said Mr. Ashworth.
The People
In the journey to becoming a green port, Hutchison Ports Thailand recognises that the welfare and development of its people is just as, if not more important, than anything else.
Working closely with the port community, Hutchison Ports Thailand has been seeking the most benefits possible for their people. "An equal work-life balance is something that we are conscious of. We are also very conscious about work safety and continually strive for a zero-accident rate at our Laem Chabang Terminals. Remote control operations and the introduction of related technologies such as anti-collision and anti-truck lift sensors for our yard cranes will help with our overall safety objectives," said Mr. Ashworth.
Mr. Ashworth also added that he was more than pleased to share some of the information and knowledge of Terminal D's remote-control operations at the recently established Visitors Centre which is welcoming visitors from shipping lines, port users and Thailand's leading educational institutions.
With the backing and supporting of its Hong Kong based parent company, Hutchison Ports Thailand is certainly making a difference while moving forward on the path towards becoming one of the most environmentally friendly container terminals in the region, by using some of the latest available technologies under a sustainable mindset.
อัพเดตข่าวสารและบทความที่น่าสนใจในอุตสาหกรรมโลจิสติกส์ก่อนใคร ผ่าน Line Official Account @Logistics Mananger เพียงเพิ่มเราเป็นเพื่อน @Logistics Manager หรือคลิกที่นี่