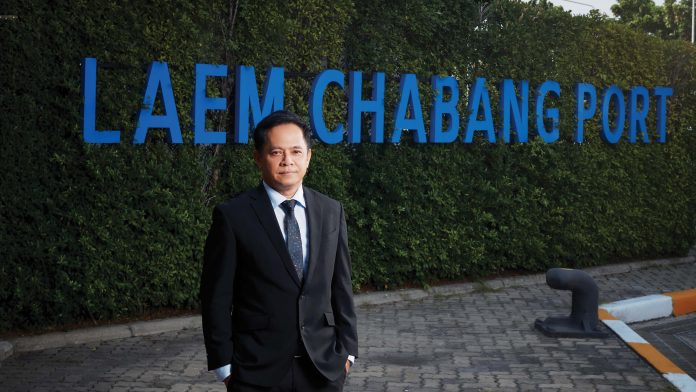 Laem Chabang Port has stood tall as the main gateway for Thailand's trade for almost three decades. In the constantly changing economic environment, the Port has always worked to improve their management systems as well as their facilities, while constantly striving to improve standards and operating efficiency.     
We sat down with Lt. J.G. Yuthana Mokekhaw, Managing Director of Laem Chabang Port to discuss Laem Chabang Port's accomplishments in the past year, and to shed the light on the Port's development plans as well as the trends in Thailand's logistics sector in the coming years.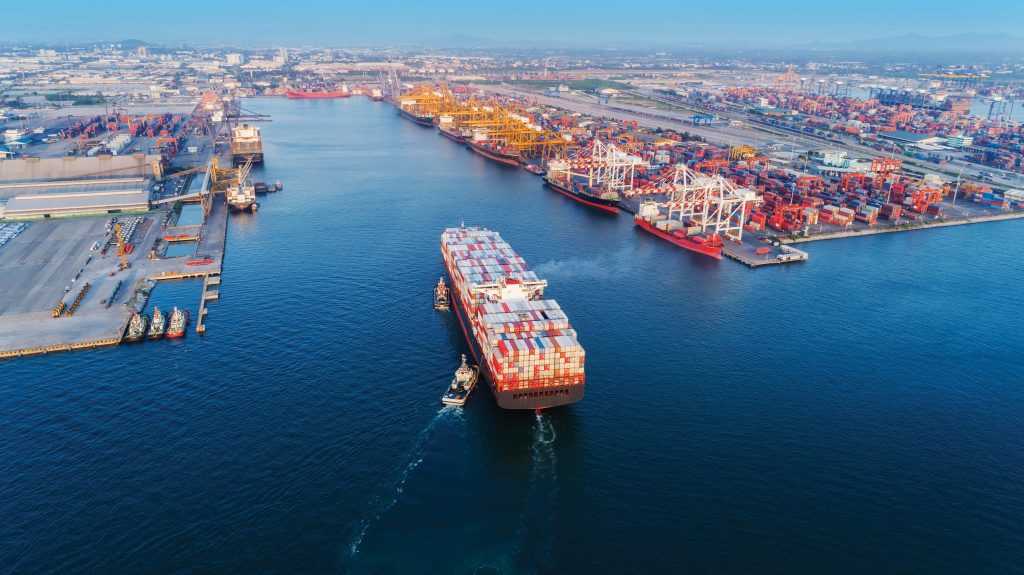 RECAPING 2019
"Effected by the trade war, export and import numbers of the past year were growing in a smaller proportion, even though there is a growth in cargo volume," explained Lt. Mokekhaw "Our port throughput is growing at a rate of 2 – 3% every year, which is very close to Thailand's GDP. In the past several years, the growth was resolving around 3%. This year however, the growth is lower than 1%," he continued.
In 2019, cars were one of the cargos which dramatically reduced in numbers, according to Lt. Mokekhaw, "1.2 million cars were handled at our port, based on the latest statistics. This did not meet our predictions, we were expecting more growth. Today, we see no expansion of cars export numbers due to the economic conditions and the trend towards electric cars in the industry. Several factories are now producing more electric automobiles, in both hybrid and fully electrical configurations."
In addition, Laem Chabang Port's business was also affected by the increasing number of competitors, both inside and outside the Land of Smiles. "Vietnam has brought a lot of development and optimization to their ports. Currently, their biggest port has 15 meters draft. While their export and import cargos are very much akin to ours, Vietnam has the advantage of lower cost, in part due to the recent appreciation of the Thai baht. Therefore, the volume of such cargos in Thailand have seen a decrease in proportion. However, we still have advantages, for example in labor quality," exampled Lt. Mokekhaw.
"As an exporter port, focusing on the port throughput is not our main duty. Our responsibility is to continuously improve the Port's facilities and thoroughfares," he ratified.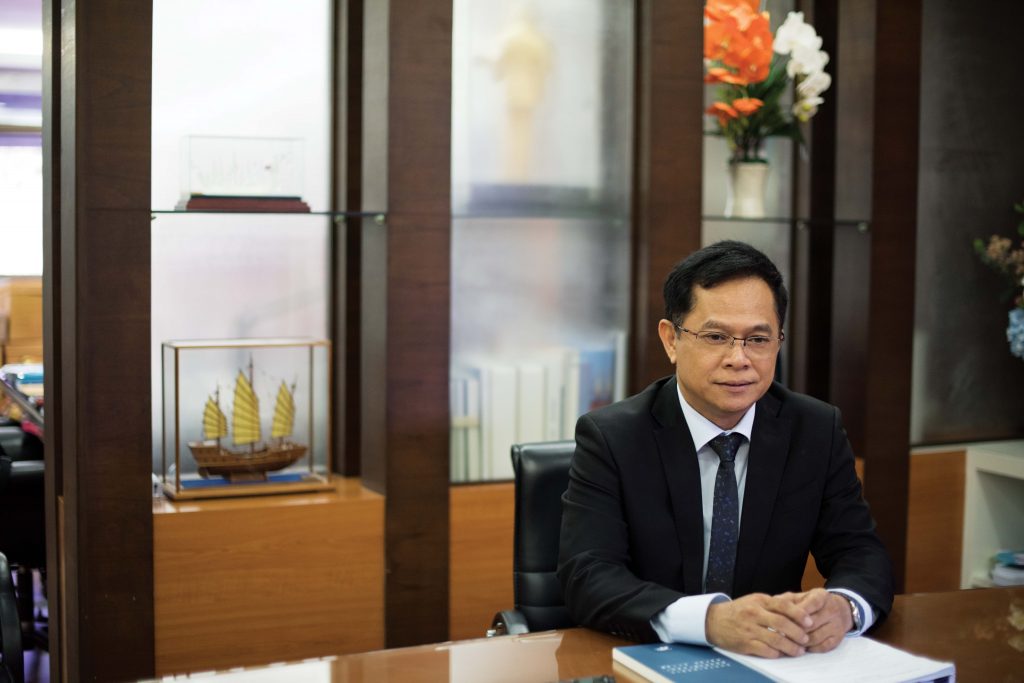 AHEAD OF THE CURVE
"In order to become a world class port, we must improve our data management. The Port Authority of Thailand (PAT) have established several projects and policies focused on transferring physical data to electronic form," Lt. Mokekhaw revealed.
"I see IT data exchange as a factor that promotes transportation information exchange. We have a project called 'Port Community System'; a platform which allows every operator in the Port to share information. The information sharing can also reach foreign countries or even origin ports," he continued.
Moreover, The Port Authority of Thailand, along with Digital Economy Promotion Agency (DEPA) are now pushing for a development of port management system or the 'Smart Port', which is part of the 'Smart City' project, aiming to bring efficiency to multimodal transportation for export-import operations within Laem Chabang Port.
The Port Authority of Thailand and Laem Chabang Port are also joined together to develop an electronic system; 'Truck Que', which designed for managing trucks' operating time while leaving and entering the Port. The Port's customers are able to book cargo receiving and cargo delivery time online through the internet.
Today, the Port is utilizing the Truck Que system on gate no. 4. The Port is also giving their customers full support with a 24/7 call center.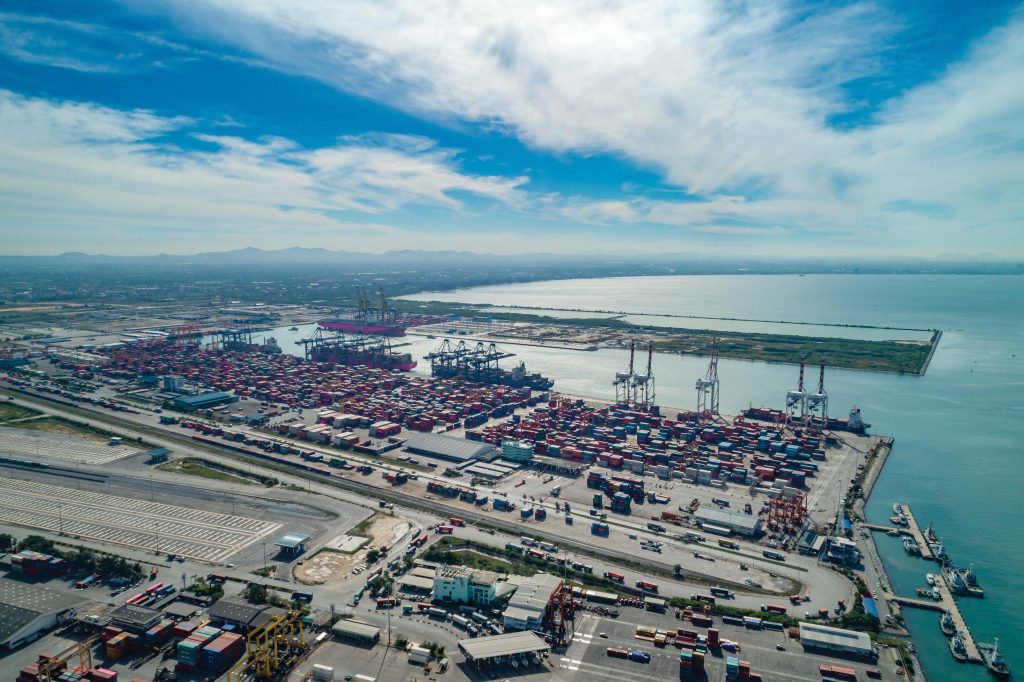 PHASE III DEVELOPMENT
"As a port, we must continue to make improvements to our properties, as we offer our customers more convenient services. Looking at improvements to the port infrastructure, we are pushing the Phase Three Terminal to be our flagship terminal, as it has the capacity to support bigger vessels with deeper drafts," explained Lt. Mokekhaw.
Once the Phase Three Terminal is completed, Lt. Mokekhaw is confident that it will open the door for biggest vessels in the world to make their way to Thailand without any limitations. The terminal is designed with a capacity to support the 400-meter Triple E-class vessels with 18.5 meters draft.
Phase three Terminal was designed to be a green terminal, as the Port has stated their commitment to environment-friendly operations, which is a trend seen across all industries around the globe today.
"Our requirements demand tenders for F1 and F2 of Phase Three Terminal to operate under a semi-automatic system. Vessels berthing at the Terminal must have the capacity to support electrical power. In the near future we plan to install electrical plugs for berthing vessels, as one of our environmental initiatives. Laem Chabang Port receives 115 kW of electrical power from the Provincial Electricity Authority, which is more than enough to power vessels," said Lt. Mokekhaw.
"In addition, the IMO 2020 also requires that oil power-based vessels must use low sulfur oil. As an IMO member, we may issue a measure from the Marine Department for berthing vessels to be low sulfur oil- vessels only," he continued.
TRANSSHIPMENT PORT
In an attempt to increase port throughput, Laem Chabang Port is studying the possibility in developing the Port into a transshipment hub. During the past year, only 80,000 TEUs were transshipment cargo, which is only 1% of 2019's port throughput of 8.1 million TEUs.
"The main factor in becoming a transshipment port is, you must have regulations that support the convenient container handling processes and information exchanging. The reasons behind Singapore's success in becoming a transshipment hub is, vessels are only required to declare container quantity numbers to terminals, without having to declare cargo information," explained Lt. Mokekhaw.
However, Thailand still has limitations in its customs laws. As the time of writing, PAT are in discussions with the Customs Department in regard to updating regulations. Such discussion may require some time for the Customs Departments to study and consider, in order to support Laem Chabang Port's plan.
Lt. Mokekhaw revealed that in order to support more transshipment cargo, the Port must also improve their container yards. Transshipment cargo usually spend more time in container yards before they are transported to their destinations. The capacity to support such cargo is one of factors which determines the amount of transshipment cargo that can be handled.
Although, Lt. Mokekhaw doesn't foresee Laem Chabang Port rising up as a transshipment port to compete with Singapore or Malaysia. "I don't think we have to go full transshipment like Singapore. We are fully aware that our location is not part of the main trading lane. However, as of now, many ocean carriers from China are travelling to Thailand. Should we find a way to connect these factors together, we could operate as a transshipment hub for niche markets. That way, I'm confident that the port throughput will definitely grow," he said.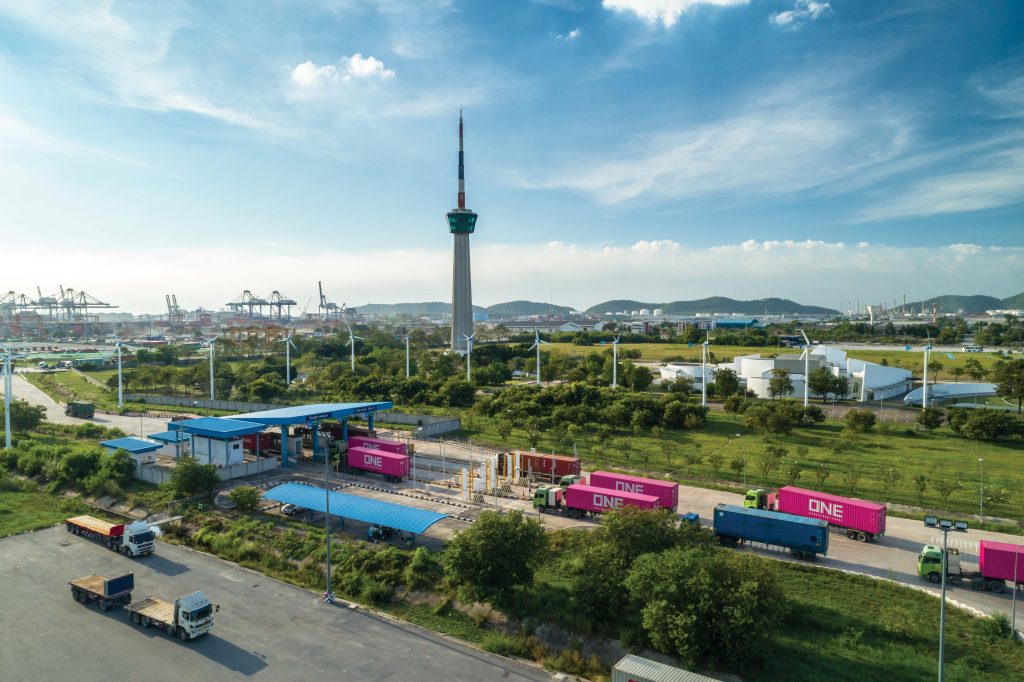 CENTER OF ASEAN
Currently, Laem Chabang Port is Laos' main trading gateway. 80 – 90% of Laos' import cargo is transported through Thailand, taking advantage of our safety standards and connectivity networks such as train lines.
Lt. Mokekhaw revealed that PAT have discussed with the State Railway of Thailand in regards to establishing a dry port in the Isan region or in Laos, to draw more cargo from China to Laem Chabang Port. "Southern China is keen to transport their cargo to Laem Chabang Port. Export routes from Kunming, China are connected every corner of the world. The rail line from Southern China to Mab Ta Phut and to Laem Chabang will be an alternative gateway connecting Southern China to every region around the globe," he said.
An attempt to establish new trading routes is only one the diversions of this ever-changing industry. At the center of it all, Laem Chabang Port, under the helm of Lt. Mokekhaw is well-positioned for steady growth with their arms open to the world. "The world is constantly changing and moving ever quicker, Laem Chabang Port also has to move at the same pace, but we must also be aware of the potential risks in the business at all times too." he stated.
อัพเดตข่าวสารและบทความที่น่าสนใจในอุตสาหกรรมโลจิสติกส์ก่อนใคร ผ่าน Line Official Account @Logistics Mananger เพียงเพิ่มเราเป็นเพื่อน @Logistics Manager หรือคลิกที่นี่