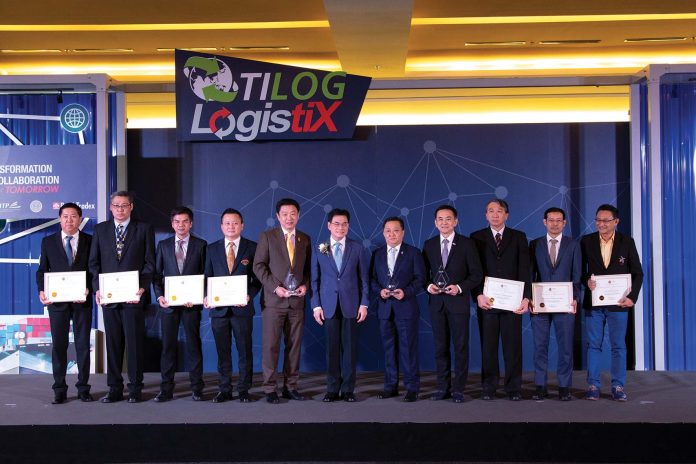 Leo Global Logistics, an end–to–end global logistics service provider was recently bestowed with the Excellent Logistics Management Award (ELMA) 2019 as the Best International Forwarder. Leo also won the Prime Minister's Export Award 2019 as the Best Service Enterprise– Logistics Services.
This accomplishment is a seal of approval to the quality and the complete logistics services, which Leo Global Logistics has been providing for nearly three decades.
To learn more about this celebratory moment, we spoke with Mr. Kettivit Sittisoontornwong, Chief Executive Officer of Leo Global Logistics Public Company Limited (Leo) about the company's business plan, new services, operational standards along with their forward-thinking mindset.
Best Standards
A fast and efficient service, the drive to evolve and innovate with new technologies, the pleasure of working closely and sharing vital information with customers, continuously improving service, and maintaining a high-standards are the foundation which allows Leo to continue pushing for new accomplishment.
"Our company has a 'Quality Manual' in accordance to the ISO 9001:2015 standard. We organize our services systemically. We also have a 'Work Instruction' for each department with diagrams and instructions, which is easy for staff to follow. We also established the 'Leo Academy', a training institution, aiming at providing basic knowledge of the business, the ISO system and proper steps of operation," said Mr. Sittisoontornwong.
As part of becoming a highly organized company, Leo requires Standard Operating Procedures (SOP) specifically for each customer with different details and demands. The sales team makes an SOP for each customer for the customer service team to utilize for meeting demands.
Reinforced Services
This year, Leo has reinforced themselves with variety of new services to meet growing demands. "We have expanded our last mile delivery services for B2C customers, both domestically and internationaly. We have partnered with SCG Yamato Express Ltd. to become a pick-up and distribution center for our e-commerce customers, as well as customers who demand a fast delivery," Mr. Sittisoontornwong revealed.
In October, Leo also partnered with Kango Express in the United States to provide a door-to-door service for online goods from the USA to Thailand. The main advantage of Kango Express' service is that customers are able to purchase from every online store in America, including stores that do not support overseas shipping. Kango Express in the United States will receive customer purchases, they will examine the goods, in accordance to the invoice, and send pictures of such goods directly to customers. Customers have the ability to choose between having an instant delivery after Kango Express receives the goods or store the goods for up to 30 days without additional expense and deliver with other purchases as consolidation delivery. This can save up to fifteen to twenty percent of transportation costs.
At the same time, the company was expanded their special equipment, project & heavy lift cargoes service to Myanmar. "Over the past year, we have transported high value large medical equipment to hospitals in Yangon. We also provided a transport service to Thai contractors in Myanmar as well. Large and small construction equipment were moved from Thailand, China, Vietnam to Thilawa Special Economic Zone through vessels and trucks with electronic seal system, for the safety and clear status of cargo. We now have successfully completed two construction projects under our belt," said Mr. Sittisoontornwong.
Furthermore, as a complete logistics service provider, Leo developed an inhouse mobile application called 'Book LEOY.' The application gives customers ability to book capacity for LCL service, document and express delivery service as well as trucks delivery service via smart phones and tablets. This service is aimed at a new generation of customers who are communicating through such devices on a daily basis. With this groundbreaking approach, Leo is making a statement, differentiating their innovative logistics business. By taking actions through screens, the customer service and booking process are passed directly to the front office system, which in turn, means a long-term service cost reduction.
Award Winning Logistics Service Provider
"Leo is a logistics service provider with 29 years of experience. With a modern organizational management that includes the ISO standards, a Balanced Score Card system, Key Performance Indicators (KPI), and a Customer & Partner Relationship Management system all help to establish long-term relationships with our customers and partners. We have been making business plans and setting goals annually with our staff since 1995," said Mr. Sittisoontornwong who revealed the company's strong foundation and their firm push towards the accomplishment as an award winner.
"As a complete global logistics service provider with partners around the world, and with a unique relationship management and efficient services, we are able to provide air and ocean freight service to over 193 countries. We also complete many CSR activities, such as 'School for Child' and 'Leo Run for Child', which gives our customers opportunities to be part a of the rural area school renovation projects. We also offer CRM activities such as the 'Exclusive Trip' to strengthen the relationship between our customers and our partners," Mr. Sittisoontornwong continued, as he emphasized the main factor behind the accomplishment of Excellent Logistics Management Award (ELMA) 2019 award's best international freight forwarder.
Mr. Sittisoontornwong also shared Leo's pride in receiving an award from Prime Minister Prayut Chan-o-cha. "The Prime Minister's Export Award is the governments highest award for the best service exporter, to reflect the quality and standard of Thai businesses in global markets. As the highest nominee for the ELMA awards, we were a sure in to be nominated for Prime Minister's Export Award 2019 for Best Logistics Service, which is our proudest accomplishment. The PM Export Award hasn't been awarded to logistics service provider for over six years, after the ELMA's judging standards were revamped in 2014."
Path Towards a Brighter Future
As the logistics business continues to evolve and change, Leo is moving along with the current by adjusting and innovating with new service technology, in order meet with the ever-changing demands. "We have studied and prepared to invest in upgrading our I.T. and computer systems. The front and back office computer system will be transferred to a web-based cloud system, which will increase our efficiency and reduce operational processes," Mr. Sittisoontornwong explained.
Leo also plans to expand more services in accordance to the present economy and society, including their 'Leo Self Storage' service. The service is aiming to expand at least one branch per year, in support of the fast-growing e-commerce business. As the depot business is on the rise with abounding demands, Leo also decided to expand their container depot through the company's affiliate; YJC Depot. "We are currently studying and searching for a new location to expand our businesses. The new location will be doubled in size, compared to our present facilities," said Mr. Sittisoontornwong.
Leo Global Logistics is steadily marching on under their vision and goal to become the spearhead of the industry, as Mr. Sittisoontornwong proudly announced, "We are aiming to become Thailand's leading end-to-end global logistics services provider with sustainable growth and to be the first company of choice for customers."
อัพเดตข่าวสารและบทความที่น่าสนใจในอุตสาหกรรมโลจิสติกส์ก่อนใคร ผ่าน Line Official Account @Logistics Mananger เพียงเพิ่มเราเป็นเพื่อน @Logistics Manager หรือคลิกที่นี่