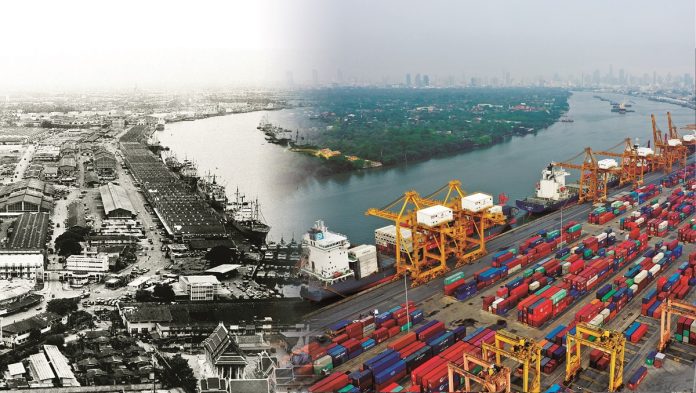 Maritime transportation is one of the essential foundations for global trade and the worldwide economy. Compared to other transportation methods such as air, rail, or road, marine transportation is much more cost-effective. Therefore, sea freight accounts for roughly ninety percent of all global trade and is by far the most efficient and preferred mode for moving cargo.
In Thailand, the Port Authority of Thailand (PAT) is the primary organization to manage port and shipping activities. Established in 1951, PAT is a state enterprise under the general supervision of the Ministry of Transport. Its purpose was to manage Bangkok Port's activities, which was Thailand's main shipping gateway at the time.
Over time, economic growth had brought Bangkok Port to its limit, with congestion becoming a chronic issue. Its location on the Chao Phraya Riverbank has a draft limit for larger ships approaching the port. In 1990, the Thai government decided to develop a new deep seaport, Laem Chabang Port, where it began operating in 1991 as Thailand's major shipping gateway.
Consecutively, PAT has established and developed other ports as regional gateways in the Northern and Southern parts of Thailand. Presently, PAT manages five ports, including Bangkok Port, Laem Chabang Port, Chiang Saen Commercial Port, Chiang Khong Port, and Ranong Port.
For the 70th Anniversary of the Port Authority of Thailand, LM magazine was granted an opportunity to speak with Lt. JG. Kamolsak Promprayoon, R.T.N., Director General Port Authority of Thailand, sharing his visions and talking about the successful pathway of PAT. He spoke to LM to explain how he pictures the future of PAT in the digital era.
LM: What have been PAT's greatest achievements over the last seven decades?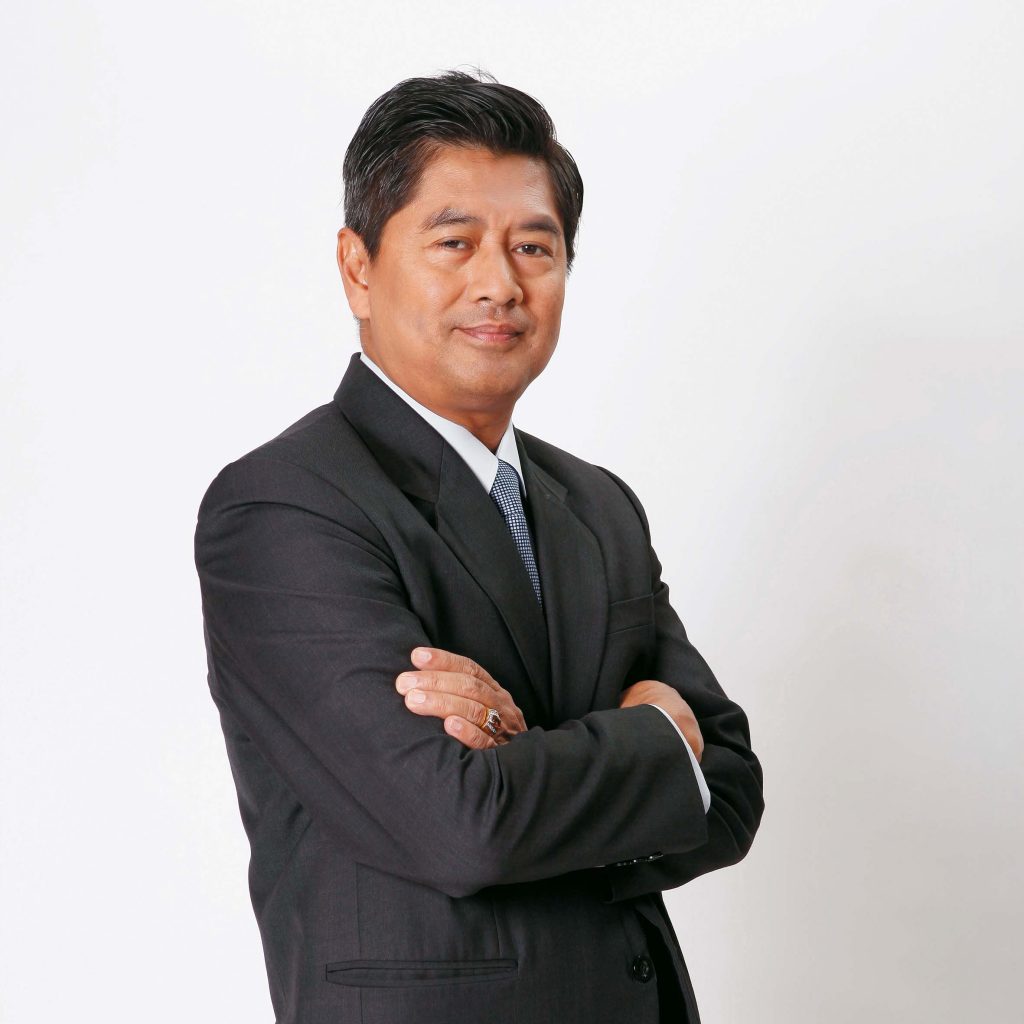 Lt. JG. Promprayoon: Over the course of 70 years, PAT has successfully pursued and achieved the Ministry of Transportation's goals including promoting Thailand's maritime transport and elevating Thailand into a global commercial hub. Maritime transportation has a major share in Thailand's import and export activities, covering 90% of the total transport volume, making it the most important mode of transportation for the country.
PAT is also planning to develop a transportation and logistics network by linking all transportation modes in Thailand, which will help promote the country's competitiveness and drive Thailand to become the regional hub. Additionally, we aim to provide safe, effective, reliable and secure service while being cost-effective. Also, we try to promote railway and alternative modes of waterway transportation, using a road network as an affiliate and last-mile means of transportation.
LM: How do PAT plan for future development?
Lt. JG. Promprayoon: We are currently at Phase 3 of the Laem Chabang Port's Development Project, which will play a significant role in developing the Eastern Economic Corridor (EEC). The project aims to increase the port's capacity in responding to future growth. We are creating another structure to accommodate more terminals, improve port facilities, resolve road traffic congestion, and expand multimodal infrastructure. Completing the Phase 3 Development Project will increase port capacity from
11 million TEUs to 18 million TEUs annually.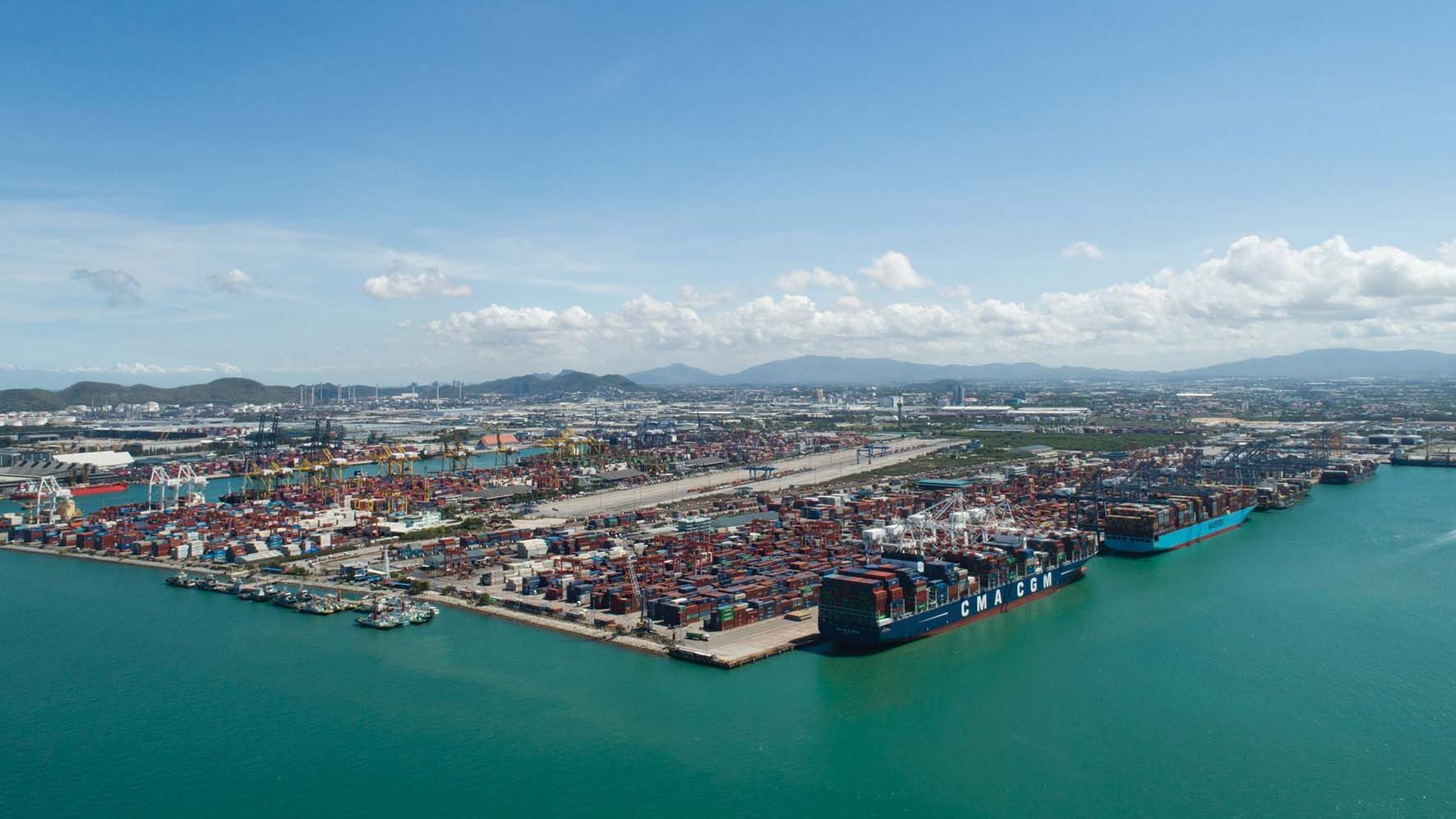 For Bangkok Port, we are developing a program called 'Smart Port', which divides Bangkok Port into three areas: Zone A – a commercial area, Zone B – for port and cargo service facilities, and Zone C – for developing a real estate project accommodating port-related businesses.
PAT aims to develop Bangkok Port into a smart port, where the immediate port hinterland will be employed as a city-central mega distribution center. The center will promote comprehensive cargo transportation and operate at high efficiency to satisfy the customers and shift the port's servicing standards to meet the global standard.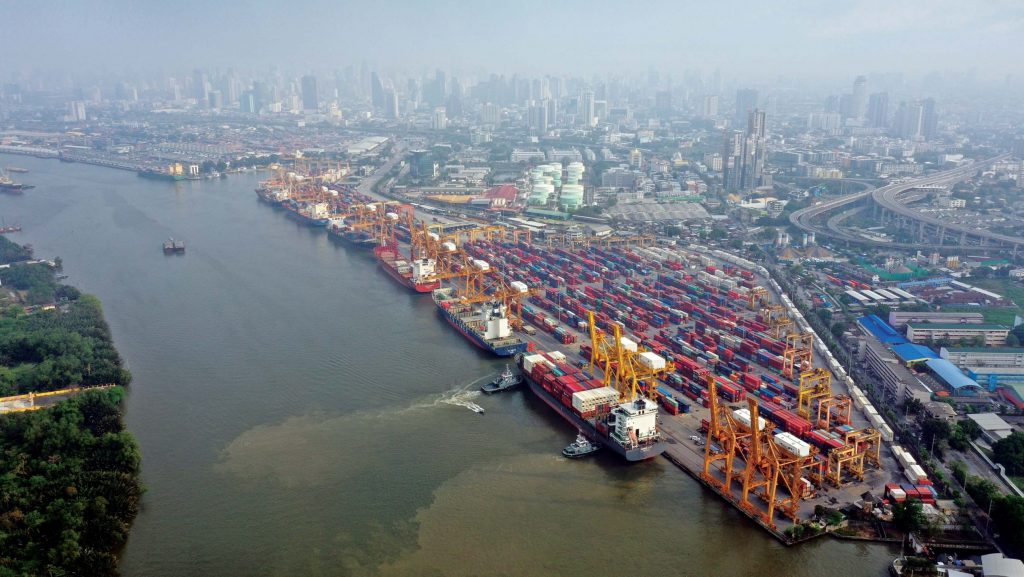 A development plan for a coastal terminal (20G) at Bangkok Port will connect with the Laem Chabang Port's coastal terminal A to promote a multimodal transportation network between Bangkok Port, Laem Chabang Port and domestic coastal terminals. Once completed, the whole network will accommodate 240,000 TEUs of cargo annually.
Concurrently, PAT is working with the Expressway Authority of Thailand (EXAT) to connect Bangkok Port with Bangna-Artnarong Expressway to reduce traffic congestion and add an extra channel for trucks to connect with the expressway networks. They can easily travel to the east via Burapha Withi Expressway, the north via Chalongrat expressway, and connect with Kanchanaphisek Outer Ring Road and the Industrial Ring Road.
LM: How will PAT develop a marketing plan to strengthen its relationship with current customers, and how will it attract new ones?
Lt. JG. Promprayoon: To strengthen customer relationships, we plan to improve customer satisfaction and services. By integrating modern innovation into the work process, we can combine the customers' database from PAT to analyze customers' needs to provide innovative products and services.
We take our corporate social responsibility seriously to foster a greater understanding of the PAT's vital role in Thailand's economy. Many projects we have pursued and sponsored over the years to educate the market and society as a whole bolster our position as a leading "Gateway Port" for cargo.
They also demonstrate how the PAT acts as an essential transportation and logistics platform or hub in the ASEAN Region. Currently, we are in the process of setting up digital media channels to help spread this important information both within and outside Thailand. All of this helps to build and weave stronger connections with existing customers and attract new potential customers. We are expanding our business alliance network domestically and internationally and analyzing the business landscape to develop suitable strategies to increase ports' income. For instance, we are promoting coastal terminal utilization, supporting marketing programs and working processes of shipping lines and terminal operators, and developing a container shipping network for Ranong Port.
LM: Toward the digital era, how does PAT plan to employ modern technologies in improving servicing capabilities and becoming a smart port?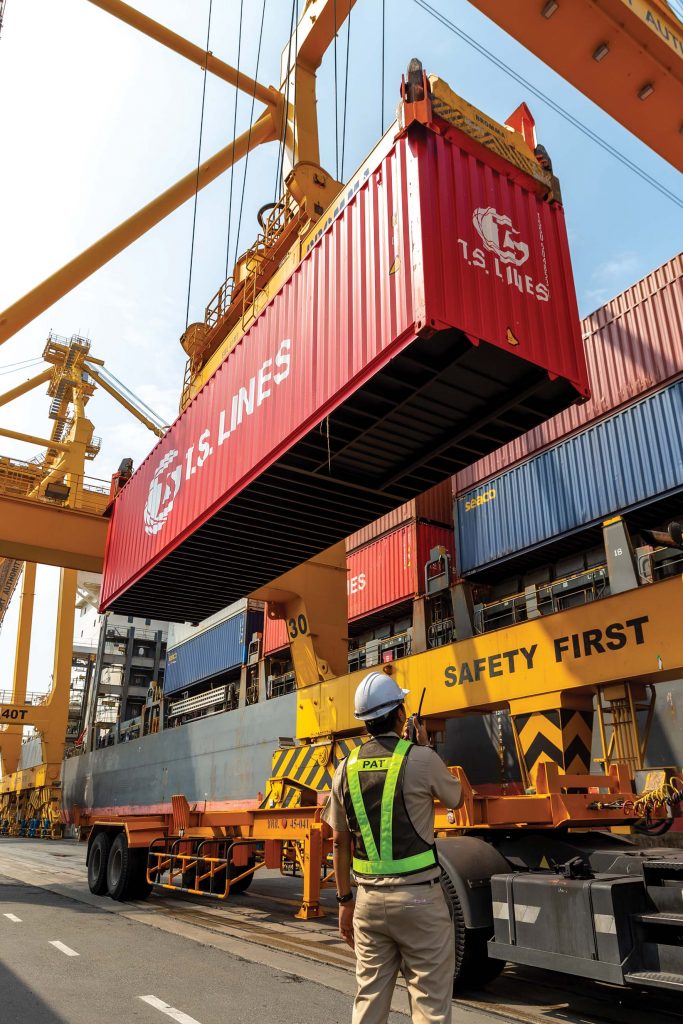 Lt. JG. Promprayoon: We are developing a Data Logistic Chain using Port Community System (PCS), using Big Data with digital technology. The system will connect G2G, B2G and B2B data together with the National Single Window (NSW) system into one e-Logistics platform where all the involved parties can connect and operate seamlessly. The outcome can help to reduce operating costs for every operator participating and streamline the import and export processes.
The COVID-19 pandemic last year forced PAT to rapidly come up with new strategies to prepare for unexpected challenges and any opportunities that should arise. Thanks to our progressive implementation of new technologies, we can subdue the risks from the global economy and industry crises.
The 70 years of PAT's success reflects the port organization's importance to Thailand's logistics industry and the global industry. PAT is now moving full steam ahead to alleviate servicing quality, and we aim to exceed customers' expectations and delight them with our vision: 'To be World Class Port with excellent Logistics for Sustainable Growth in 2030.'
อัพเดตข่าวสารและบทความที่น่าสนใจในอุตสาหกรรมโลจิสติกส์ก่อนใคร ผ่าน Line Official Account @Logistics Mananger เพียงเพิ่มเราเป็นเพื่อน @Logistics Manager หรือคลิกที่นี่