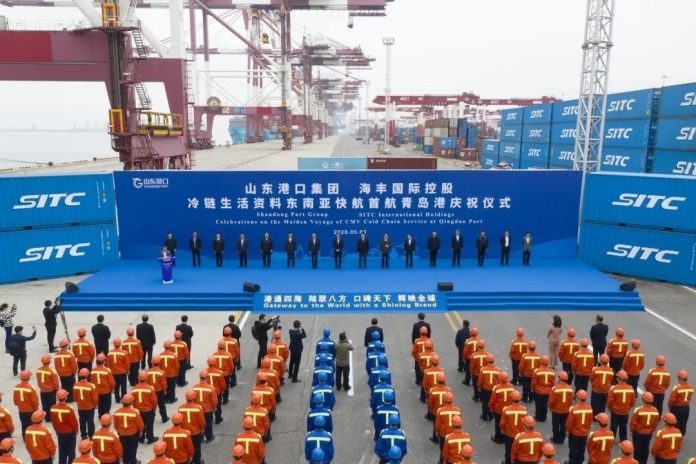 SITC recently held an event celebrating the launch of their Southeast Asia – Qingdao Express service.
In attendance were. Mr. Xue Qingguo the Deputy Mayor of Qingdao, Mr. Huo Gaoyuan Chairman of Shandong Port Group Co., Ltd, Mr. Jia Funing Chairman of Qingdao Port Group Co., Ltd, Mr. Yang Shaopeng, Chairman of SITC International, Mr. Xue Mingyuan, President of SITC Shipping Group, Mr. Lai Zhiyong, President of SITC Logistics Group, Mr. Zhao Zhiyong, General manager of Shandong Smart International Logistics Co., Ltd., Mr. Sun Yongli, General manager of SITC Container Lines (Shanghai) Co., Ltd., Qingdao Branch, Ms. Wang ling General Manager of SITC Logistics Co., Ltd. Qingdao Branch, all witnessed the maiden voyage.
This new route takes only 5 days from Vietnam to arrive at Qingdao. It looks to provide a low cost, the high efficiency cold chain physical distribution channel for customers. Up to now, SITC says their company has formed intensive fresh-keeping Green Express Service in many places between Southeast Asia and China, providing diversified choices for customers and becoming the first choice for fruit customers. At the same time, this route is also the first direct route from Qingdao to the east of Malaysia, which improves the economic efficiency of trade between the two places.