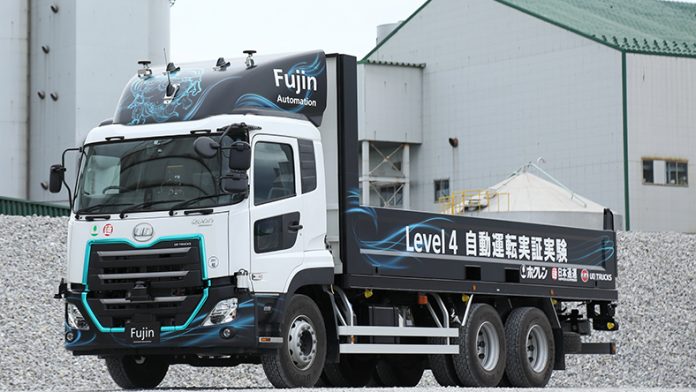 UD Trucks, Nippon Express and Hokkaido agriculture cooperative Hokuren, recently demonstrated the use of advanced autonomous driving technology in the handling of farm produce at one of Hokkaido's leading agriculture processing facilities, an important initiative that can help address a shortage of truck drivers as the country's work force contracts.
The demonstration took place at the Hokuren Sugar Refining Mill in Nakashari, Hokkaido. In the trial, a Level 4 (L4) autonomous vehicle from UD Trucks simulated the transport of sugar beets through the facility and surroundings in an event attended by an estimated 150 key stakeholders. In a first for heavy-duty trucks in Japan, the trial included autonomous driving on a public road adjacent to the facility, a development made possible through the cooperation of relevant authorities.
"Japan's growing labor shortage is a serious issue that must be addressed. By combining the expertise of commercial vehicle manufacturers, logistics companies and the agricultural sector, we believe that autonomous driving technology can play an essential role in finding the solutions we need," said Mr. Takamitsu Sakamaki, UD Trucks President.
The shortage of truck drivers now poses a great risk to the stable supply of not only sugar beets, but also broader agricultural and livestock products produced in Hokkaido, of which 3.5 million tons are shipped outside the prefecture every year. Securing a stable transportation network connecting Hokkaido and other destinations is critical.
The trial program, which took place during August of 2019, demonstrated how produce can be moved through the processing center. A specially adapted L4 heavy-duty Quon vehicle from UD Trucks operated on a typical delivery route from the entrance to the produce acceptance area, interim storage and the final unloading area at an average speed of 20 kph. The route included a distance of 200 meters on a public road.
UD Trucks is a leader in the use of L4 automation in Japan, the last step towards Level 5 (L5) fully-automated transportation, allowing the vehicle full autonomy over every aspect of driving in a predefined operational design domain (ODD).