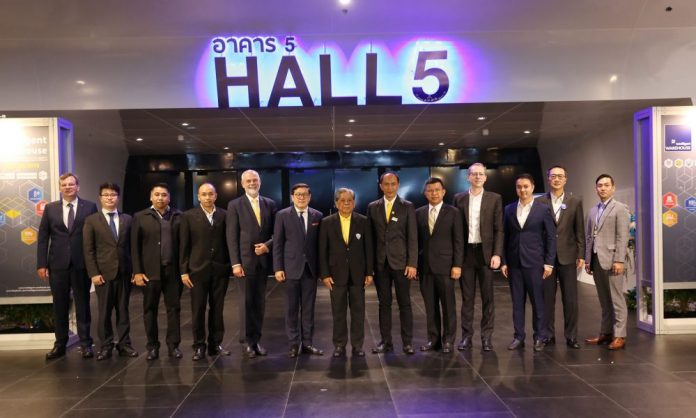 During July 24th – July 27th, 2019, the Warehouse Technology and Management Association together with Expolink Global Network Limited jointly held the 'Intelligent Warehouse 2019' expo. This biggest Intralogistics and management expo aimed at optimizing future warehouse management with modern technologies. Encompassing over 5,000 square meters at IMPACT Exhibition Center Hall 5, Impact Muang Thong Thani, the attendees found themselves in the center of world class-logistics innovation, including Warehousing, Material Handling, Intralogistics System, Storage, Warehouse Management and Cold Chain.
Mr. Phusit Sasitharanon, Managing Director of Expolink Global Network Limited revealed that logistics and warehouse industries are pivotal to driving the nation. In 2018, Thailand's overall logistics business was worth an estimated 215 million baht. Around 145,100-147,300 million Baht of land transportation business and 5,500-76,700 million Baht of warehouse business. With over 5.3-7 percent growth rate per year and still growing.
"We've had a successful Intelligent Warehouse expo with good responses from businesses and attendees last year. We held this expo again to emphasize the efficiency and the advanced innovations in warehouse technology and management. Over 40 businesses have joined us this year, such as SSI Schaefer Systems International Co. Ltd, Interroll (Thailand) Co.,Ltd, BYD Auto Co., Ltd., LPI Rack Range (Thailand) Corp.,Ltd., Cheng Hua (Thailand) Co., Ltd., MURATA (THAILAND) CO., LTD., and more."
All around logistics and warehouse products were also showcased at the expo, including pallet, forklift, battery, storage system, barcode system, and general goods transportation. Along with an Intralogistics Demonstration Zone which guided the attendees through the process of warehouse system.